Hörproben aus der neuen CD "Les Oignons"
Diese zeigen einen kleinen Teil unseres vielseitigen Repertoires!
Wissenswertes
Referenzauftritte
Aarau, Lounge des Gasthof Schützen
Affoltern a.A., "LaMarotte" Kellertheater
Allschwil/BL, Dorfjazz
Baar/ZG, jazzin'baar, Rest. Brauerei
Basel, Club Des Arts, Swingtanz
Basel, Em Bebby sy Jazz
Basel EuroAirport, Super Constellation Flyers Association
Basel, Jazzkuchi
Basel, Klybeck Casino
Baden, Badenfahrt 2007 und 2017
Baden, Music Bar "Prima Vista"
Bern, JetLäg Kellerbar
Bern, Mahogany Hall
Bern, "New Orleans Jazz Night Bern", Restaurant Mappamondo
Biel, Scat Club
Birr AG, Brötliexamen
Brugg, Zapfenstreich Schützenmatte
Chur, The Second Line Jazzclub
Delémont JU, Jazz Club
Effingen/AG, Kulturkommission
Effretikon/ZH, Pro Senectute Nachmittag
Embrach/ZH, Kulturkommission
Embrach/ZH, Oberdorffest
Fehraltorf ZH, Jazz im Heigethuus
Fehraltorf ZH, Kirchenkonzerte, einmal gemeinsam mit Starklarinettist Sammy Rimington
Fehraltorf ZH, Kantonalschützenfest
Fehraltorf ZH, Musig im Chilegass
Flawil SG, Monday Night Music im Park
Flawil (Burgau) SG, Jazz im Zelt
Goldau SZ, Tierpark, Frühschoppenkonzert
Gütighausen/Henggart/ZH, Jazz at the Mill
Klingnau AG, Schlosskonzert, Kulturverein
Kreuzlingen TG, Jazzmeile
Küttigen Kirchenkonzert Kirchberg
Langenthal/BE, Kreuzhofbar Monday Jazz
Laufen BL, Kulturzentrum Alts Schlachthuus
Leimiswil BE, Jazzclub-Lindenholz
Le Landeron NE, Jazz Estival
Lenk BE, Jazztage
Lenzburg AG, Jazz in der Hypi
Lenzerheide GR, Sunstar Hotel
Megève (Frankreich), Jazz Contest (Halbfinal)
Meilen ZH, Old Time Jazz Club
Mellingen AG, Montagsjazz im Löwen
Nebikon LU, "Old-Time Jazznight", Gasthof Bahnhof
New Orleans, USA, Fritzels Jazz-Pub an der Bourbon Street
Niederrohrdorf AG, Zentrum Gut Hirt, Kulturkreis
Oberdiessbach/BE, Castle Jazztage
Oftringen AG, Kulturkommission
Reinach/BL, Konzert im Gewölbekeller, Kulturkommission
Reinach/BL, Jazzweekend
Reinach/BL, Matinee im Restaurant Wacker
Rheinfelden AG, Jazzclub Ja-ZZ
Rorschach SG, Old Time Jazz am See
Sargans SG, Jazz Club
Schaffhasusen, Jazz Treff im Restaurant Altes Schützenhaus
Sursee LU, New Orleans Night
St. Gallen, New Orleans meets St. Gallen
Teufenthal/AG Jazz im Wald
Tiengen (Deutschland), Jazzfest Tiengener Sommer
Villnachern AG, Jazz im Bären
Wädenswil, Wädi-Brau-Huus, City Jazz Club
Weggis LU, Jazz im Unterdorf
Wettingen AG, Montagsjazz im Winkelried
Wettswil ZH, Jazz im Hirschen
Winterthur, Jazz i dä Fabrik, Ethno Bistro
Wohlen/AG, ibw Jazznight
Wolfhalden AR, Alte Mühle, Jazzevent
Zofingen AG, Jazz Club, Jazz-Weekend Markthalle
Zürich, Commihalle
Zürich, Tanzclub El Social
Bridge Pipers in der Presse
Reussbote, Ausgabe vom 15. August 2014 (Frontseite):
Neue Fricktaler Zeitung, Ausgabe vom 16. Juli 2013: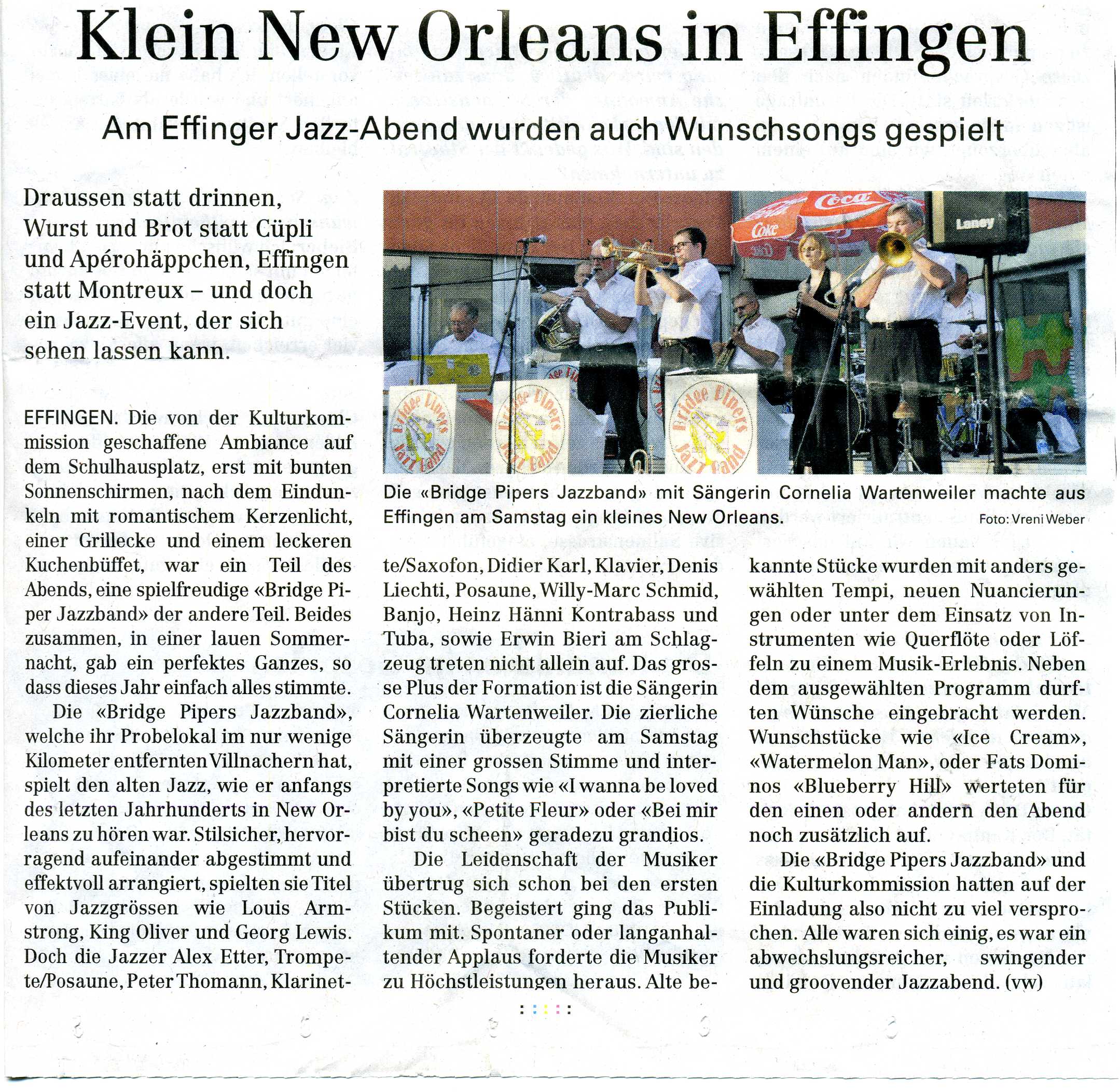 Aargauer Zeitung, Ausgabe vom 31. Mai 2012: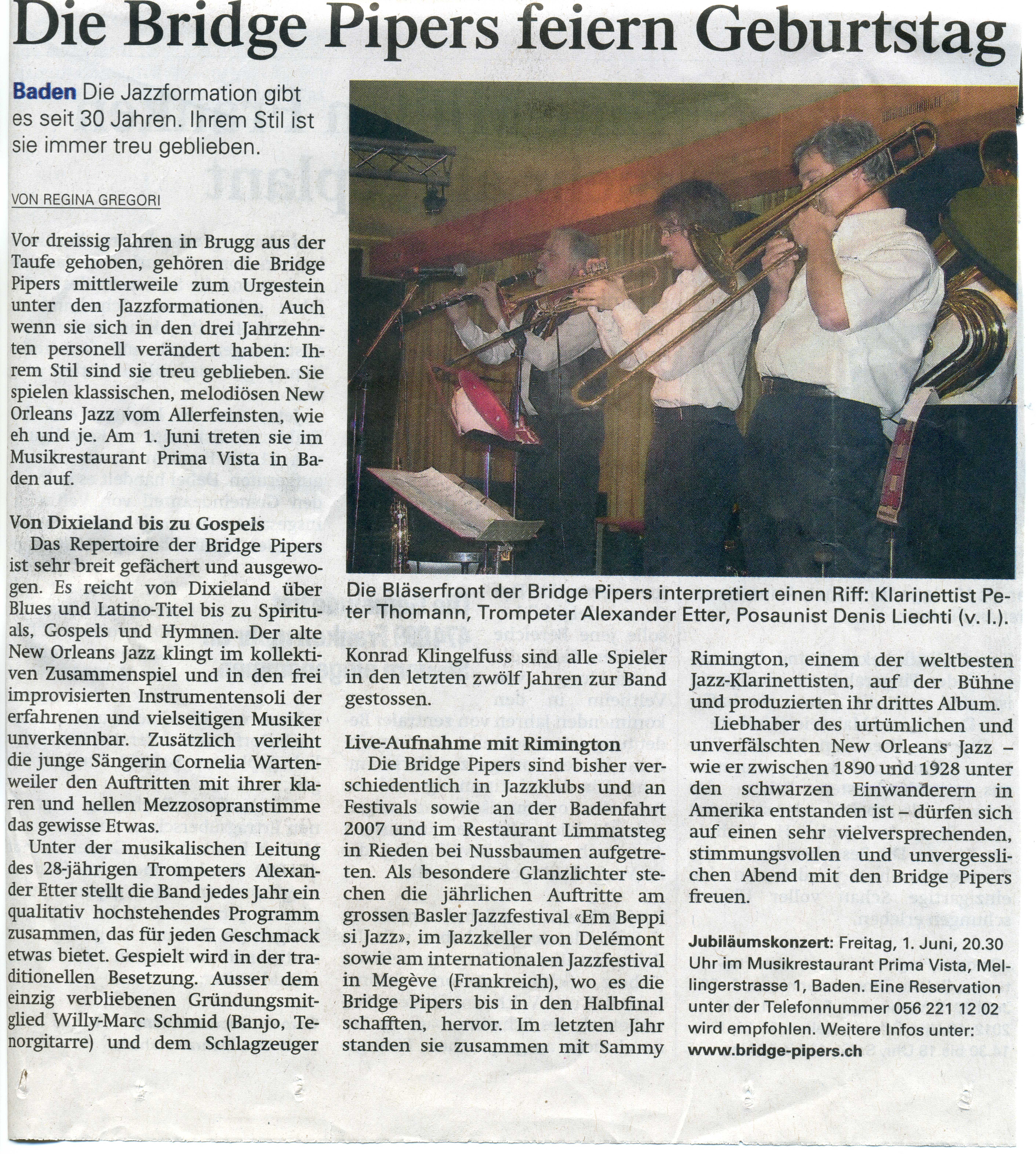 Bandlogo Download: hier klicken
Klicken sie mit der rechten Maustaste auf den Link und wählen Sie dann "Ziel speichern unter..." oder öffnen Sie den Link und klicken sie mit der rechten Maustaste auf das Bild und wählen "Bild speichern unter..." und wählen den Ort, wo sie unser Logo abspeichern möchten.